GoldTech's fertilizer has revived old and stunted black pepper and coffee plantation…
16/05/2017
-
Vũ Thị Huyền
-
0 Comment
Many farmers in the Central Highlands mistakenly believe that the bio-organic fertilizer Goldtech G05 ​​is a kind of plant protection drugs. Because many coffee and black pepper plantations that are old and infected with diseases have been revived by using the fertilizer.
Chemical fertilizer abuse: Hazardous! At one point, I asked the agricultural expert Truong Van Thanh (technician of Goldtech Biotechnology Investment Company Limited): Why in recent years has stunted disease of black pepper invaded so large in the Central Highlands? He said: " Because black pepper growers are crazy, black pepper plants are crazy too.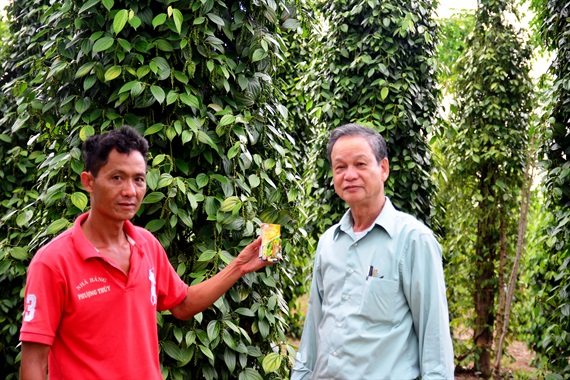 Many black pepper plantations in the Central Highlands are green and healthy thanks to the use of bio-organic fertilizer Goldtech
Mr. Thanh explained that: "Black pepper plants are not spontaneously infected with diseases. but most of reasons are because growers cultivate without obedience of common cultivation techniques, as a result pathogens appear and develop. Over the past years, the area of black pepper cultivation in Vietnam has increased rapidly, even exceed cultivation plans. Many farmers have succeeded, but many other farmers have failed. Although they spent huge sums of money on their investments, their black pepper plantations were still died of pests and diseases. Black pepper is a very "choosy" plant. They are very susceptible to weather and difficult to nurture. They "eat" little bit like cats, but they must be maintained regular nutrition. Because farmers' desires are the plants having fast growth and high crop yield, many gardeners have abused the chemical fertilizers (nitrogen, phosphorus, potassium) causing the soil structure to be broken down and soil pH to not balance. The ability to develop new roots of the plants is weak facilitates harmful pathogens such as nematodes to attack directly and then nest in the root system causing disorders. They live and move through plant tissue. They suck and inject toxins into the root system of the plants causing constriction and swell in the root resulting in lumpyness (tumors) or necrolysis. This leads to decrease absorption of water and nutrients. The plants grow weakly, their leaves become yellow and then they die. These symptoms will become more severely when combined with fungal pathogens. Bacteria penetrate the root wound caused by the nematode. Nematodes exist and grow depending on many factors: soil humidity, number of roots, soil texture, low pH (sour soil) and oxygen in the soil.
In the districts of EaKar and Krong Nang (Dak Lak province), many of the pepper plantations that seem to be "wiped " due to rapid wilt and slow wilt diseases have been revived owing to a special fertilizer called Goldtech G05. The black pepper plantation of Mr. Le Van Bang, in Cu Ni commune, EaKar district is a typical example.
Improve soil, increase vitality for the plants.
For about 2 years to this time, Mr. Bang's black pepper plantation was quite ragged, appeared more and more yellow leaves with small, thin and curly in unexpected characteristics, and made the branches shorter and shorter. Black pepper panicles became shorter and brought less the fruits but more serrate (unfertile fruits). The owner intended to cut down for new planting.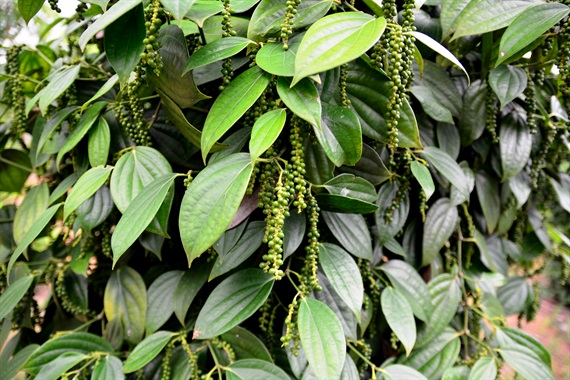 Black pepper applied bioorganic fertilizer Goldtech is good quality, qualified for export to the most fastidious markets.
Incidentally, he was introduced using the bioorganic fertilizer Goldtech G05 ​​to help plants enhance their vitality and resistance to pests and diseases. At first, he mixed 10ml of the fertilizer solution with 200 liters of water, then sprayed on the leaves and roots. Seeing the green pepper, he continued spraying two more times, each 15 days apart. At that time, yellow leaves on the plants began to fall and shoot out new leaves. The new leaves are very thick, green and shiny, showing strong vitality so that anyone has been interested in watching. Mr. Bang also said, since he used the fertilizer Goldtech G05, quantity of nitrogen supplement to the pillar peppers reduced by half. The pepper panicles grew very long with many big fruits, and no longer serrated. Black pepper fruits have perfectly ensured the quality of food hygiene and safety, meeting the standards of export to the most fastidious markets in the world. Especially, when digging for soil to test, the new roots is white, but not lumpy. During the spray application of the fertilizer, Mr. Bang's family does not need to use personal protective equipments (gloves, face mask,...), because it is very friendly to environment and has a characteristic aroma. Leaving Bang's house, we visited black pepper plantations of Mr. Nong Bao Hung in Giang Tien village, Ea Puk commune, Krong Nang district (Dak Lak province). Mr. Hung said his black pepper is 20 years old, so the plants have many yellow leaves and very low crop yield. The owner intended to cut down for new planting. After using the fertilizer Goldtech G05 for ​​5 times according to the use instructions in the package, the yellow leaves have fallen out and been replaced with the new leaves, the branches are longer and more and its productivity has increased highly compared to the recent years. In particular, the black peppers are no longer any disease appearance. According to agricultural engineer, Mr. Truong Van Thanh, bioorganic fertilizer Goldtech G05 ​​is produced the Goldtech Biotechnology Investment Company Limited, with a combination of nanotechnology, biotechnology... Composition of the fertilizer contains over 130 active ingredients, extracted from natural herbs combined with nanoparticles (silver nanoparticles,...) that have strong antibacterial, antifungal properties, be safe and are not be lost by leak off or rain. Especially, the product is completely unaffected and no side effects on livestock, poultry, plants to ensure quality food safety and hygiene.
"Multifunctional fertilizers".
Over the past 10 years, the Goldtech company has combined with institutes, research centers and scientists in the field of soil and plant nutrition to build hundreds of models demonstrating the use of the Goldtech fertilizers on plant objectives in both the domestic country (Vietnam) and foreign (e.g. Philippine, Malaysia, Thailand, Singapore and some countries in the Middle East).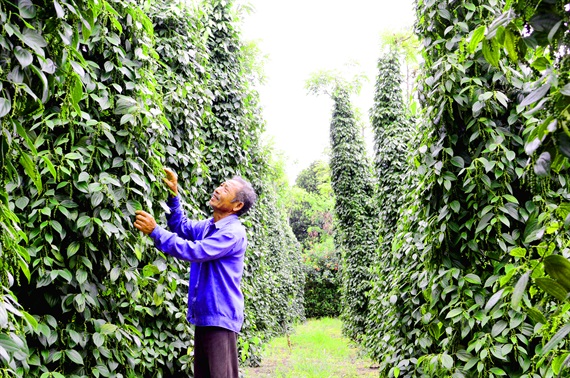 Black pepper applied the bioorganic fertilizer Goldtech G05 is good quality, qualified for export to the most fastidious markets.
Not only does it work to make black pepper plants become young again, the Goldtech G05 ​​fertilizer also helps plants to increase their resistance to pests and high crop yield. Previously, the 15-year- old coffee plantation of Mr. Nong Van Thuy in EaTam Commune, Krong Nang District was very weak, yellow leaves and ruined with mealy bugs a lot. The coffee plants did not produce and develop many new branches so their productivity decreased strongly. Since spraying the fertilizer solution Goldtech G05, his coffee plantation has had many new branches, and the productivity has increased much more times. Especially, with the area of ​​new coffee plantation, Mr. Thuy uses the fertilizer Goldtech G05 from the beginning. Until now, the coffee plantation is only 1 year old but the branches are very big and bring many fruits. "For decades of planting coffee, I have not seen any special fertilizer like this", Thuy said.
According to the agricultural press.
Link dẫn: http://nongnghiep.vn/phan-bon-goldtech-cai-tu-hoan-sinh-vuon-ho-tieu-ca-phe-gia-coi-post178363.html